DECENTERING TREATY MAKING POWER OF THE FEDERAL GOVERNMENT UNDER THE ETHIOPIAN FEDERAL SYSTEM: IN SEARCH OF BETTER SAFEGUARDING MECHANISMS
Keywords:
UNCITRAL Model Law, England, Civil Procedure Code, Award, Arbitration, Setting aside, Ethiopia
Abstract
Due to globalization, the numbers of treaties signed between countries are on the increase. The subject matter of treaties is also broadening so that it includes those areas conventionally considered as domestic affairs. This proliferation of treaties in number and subject matter renders treaty making power troubling in federal countries since the federal government may override the jurisdiction of the constituent units by concluding treaties falling under their competence. This article examines the safeguarding mechanisms of treaty making power of the federal government in order to reduce its impact on the autonomy of Regional States under the Ethiopian Federal System. The article, through analysis of treaties ratified by the Federal Government of Ethiopia and experience of other federal countries, shows that, treaty making power under the Ethiopian Federal System undermines the constitutional distribution of power and autonomy of Regional States by enabling the federal government to conclude international agreements falling under the competence of the Regional States. The article demonstrated that the Ethiopian Federal System lacks mechanisms and institutions to safeguard the interest of Regional States from the unchecked treaty making power of the federal government. Finally, the article proposes institutionalized consultation between the levels of government as a safeguarding mechanism in order to maintain the autonomy and interests of Regional States.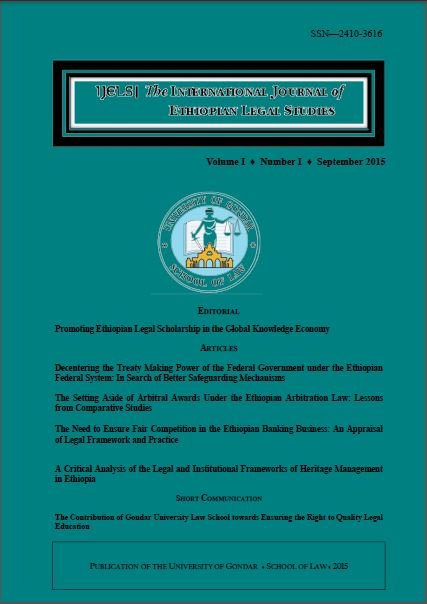 Downloads