THE SETTING ASIDE OF ARBITRAL AWARDS UNDER THE ETHIOPIAN ARBITRATION LAW: LESSONS FROM COMPARATIVE STUDIES
Keywords:
Arbitration, Award, Civil Procedure Code, England, Ethiopia, Setting aside, UNCITRAL Model Law
Abstract
The use of arbitration as a means for amicable dispute settlement under the Ethiopian legal framework has been laid down in the 1950's and 1960's massive codifications. Currently, the major sources of Ethiopian arbitration law constitute the Civil Procedure Code, the Civil Code and Federal Supreme Court's Cassation Bench decisions. Under these legal regimes, there are three ways where courts can review arbitral awards—appeal, cassation and setting aside. Unlike appeal, setting aside is a qualified and balanced approach to sustain both the interest of the disputing parties and the demand of justice. However, despite the international best practices and the demand of modern commercial dispute settlement, challenging arbitral awards through setting aside has been given less attention in Ethiopia. Particularly, the rules governing the setting aside of arbitral awards is inadequate to suit the demands of modern commercial arbitration. Thus, improving the recourse of setting aside would be very decisive to ensure so that commercial arbitration in Ethiopia flourishes in conformity with the international arbitration practices. The purpose of this study was therefore to analyze the current status of Ethiopia's legal framework for challenging arbitral awards through setting aside in light of the international best experiences. Accordingly, a comparative study of key provisions of the English Arbitration Act 1996, the Model Law and the Ethiopian arbitration legal regime was examined with a view to reveal the optimal legislative framework for arbitration which serves as a method of settling disputes. This study sought to indicate how international best experiences should be adopted in Ethiopia to minimize the excessive approach of court intervention for challenging arbitral awards. In view of the international best practices, the study concludes that article 356 of the Ethiopian Civil Code should be amended to include the following additional grounds of setting aside of arbitral awards: (a) incapacity of one of the parties, (b) the inability of one of the parties to present his/her case due to arbitrator bias, (c) procedural defect that results from failure to hold on to the parties' arbitration agreement, (d) non-arbitrability of the matter, and (e) violation of public policy.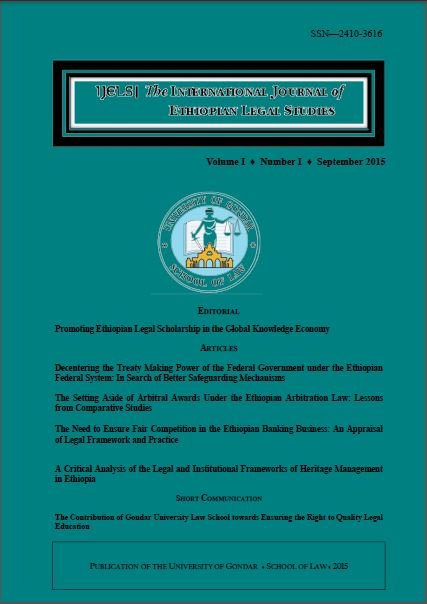 Downloads