THE NEED TO ENSURE FAIR COMPETITION IN THE ETHIOPIAN BANKING BUSINESS: AN APPRAISAL OF LEGAL FRAMEWORK AND PRACTICE
Keywords:
banking sector, Ethiopia, market failure, regulatory neutrality, subsidy, unfaircompetition
Abstract
The Banking sector can be the main source of financial innovation and efficiency in economies where financial sector reforms are prudently designed to enhance competition among the private and state-owned banks alike. The domestic private investment in the banking industry in Ethiopia was re-introduced in addition to the restructuring of state owned banks since 1994. Under the supervisor mandate of the National Bank of Ethiopia (NBE), various banking and monetary legislations were adopted to regulate the effective functioning of the banking sector. However, the current banking sector lacks regulatory neutrality due to government's involvement in the business of banking. The purpose of this article was to analyze the legal frameworks governing competition among the commercial banks in Ethiopia. The finding of this article reveals that despite the need to ensure fair competition in the banking industry, the "subsidy measures" provided for state-owned commercial bank of Ethiopia adversely impacts the competitiveness of privately owned banking investments. This article specifically identified that the government deliberately designed a legal framework that favors state-owned commercial bank of Ethiopia by imposing limitation pertaining to certain financial activities of private banks including but not limited to: (a) the mandatory obligation of private banks to buy National Bank of Ethiopia treasury bills, (b) limitation on share of long term portfolio investment, (c) limitation on share of revolving credit facilities, and (d) limitation on private commercial banks pertaining to the opening letter of credit by government institutions regarding the importation of goods and services. It was argued that on top of the gaps in Ethiopian competition law capable of ensuring fair competition in the banking sector, the legal and practical acts of the government to subsidize state-owned commercial bank negatively impacts the growth of private banking investments. It is concluded that the government of Ethiopia should ensure regulatory neutrality to ensure fair playing field in the banking sector.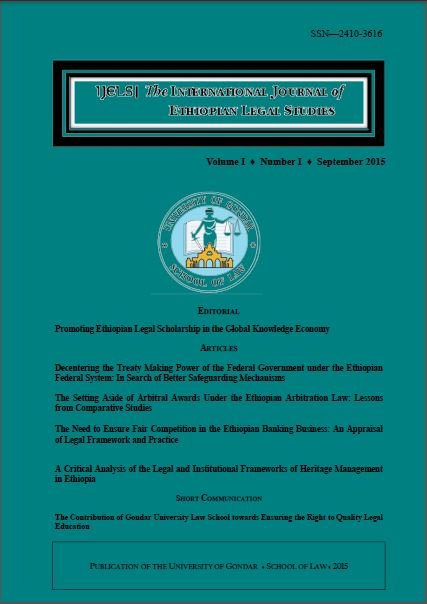 Downloads