A CRITICAL ANALYSIS OF LEGAL AND INSTITUTIONAL FRAMEWORKS OF HERITAGE MANAGEMENT IN ETHIOPIA
Keywords:
heritage, management, heritage law, institutional framework, international standards, Ethiopia
Abstract
Ethiopia is a multinational state rich in unique historical, cultural and natural heritages. So far, eleven of tangible and intangible heritages have been registered as world heritage sites by United Nations Educational, Scientific, and Cultural Organization (UNESCO). The recognition helps build the image of the nation thereby to enhance the development of the tourism industry. These heritages have scientific, aesthetic and environmental values which contribute to the overall sustainable development of the country. However, the benefit that Ethiopia accrues from its heritages could be limited unless proper legal and institutional frameworks that ensure adequate heritage management are in place. The purpose of this article is, thus, to critically analyze the extent to which the existing legal and institutional frameworks designed for heritage management in Ethiopia provide adequate protection for the heritages. The article relied on a review of relevant literature and international best practices designed to protect heritages from potential and actual threat through a scheme that ensures effective management system. This article found out the legal and institutional frameworks that are designed to regulate the management of heritages in Ethiopia are inadequate as examined in light of the international standards and best practices. The article argues that such flouting regime of heritage laws and institutions has contributed to heritage damages, misuse and proliferation of crimes against same. It is concluded that, with some of the recent developments, Ethiopian legislations and institutions that are established to manage natural and intangible heritages should be revisited to conform to the international instruments in order to provide adequate protection to all Ethiopian heritages.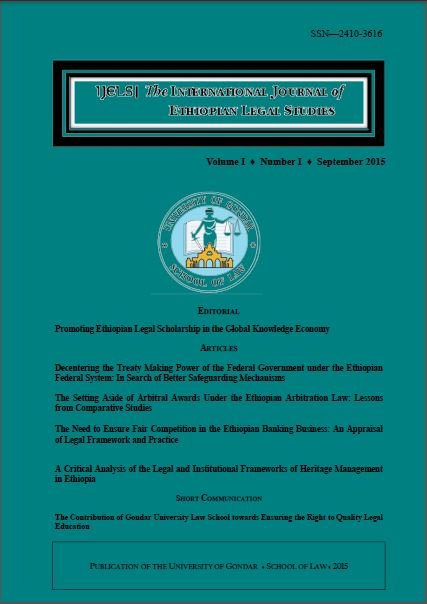 Downloads