THE CONTRIBUTION OF GONDAR UNIVERSITY LAW SCHOOL TOWARDS ENSURING THE RIGHT TO QUALITY LEGAL EDUCATION
Abstract
It has been 10 years now since legal education has been introduced in the University of Gondar. Over the years, there have been major achievements by School of Law at the University in the affairs of academic, research and community services. As per the International Covenant on Economic, Social and Cultural Rights—to which Ethiopia acceded in June 1993—the development of a system of the School shall be actively pursued and the material conditions of teaching staff shall be continuously improved.1 It is important that there is record of series of events for the last decade in the School of Law to assess its meta-level measures taken towards realizing quality legal education through a system pursued and conditions improved in the School.
This work is not just a mere chronicle in the context that it would be meant to listing an account of just historical events of the School's legal education in the order of their occurrence. The work would mainly go through, in both description and analysis, the evolution – and in some instances the revolution – of legal education from its inception in the University up until the present at which we position the School right now. Hence, attempt is made to the satisfaction of questions that includes the 'why', the 'how' and the 'what then' between the launching of legal study and its present state and everything in between as long as they significantly impact to quality legal education.
I cannot presume to cover in a space of few pages. However, as a founding Dean of the School of Law, I have chosen to incorporate what I personally think are significant events both in terms of their effect up on the School of Law and their impact up on the students and the community. I hope that this note appearing in the first issue of this Journal will serve as important means of communicating the School's achievements and setbacks to the wider public, and as a wake-up call to managements of both the School and the University as to where attention be drawn in no time.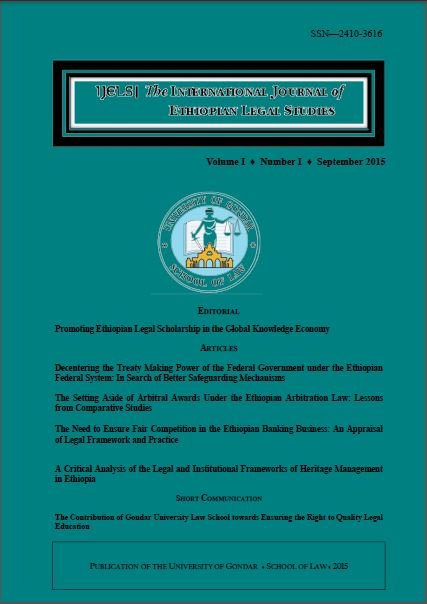 Section
Short Communication