FORMALISATION OF CUSTOMARY TENURE OR 'INFORMALISATION' OF NON-CUSTOMARY TENURE? PARADOX IN THE CADASTRAL SYSTEM DEVELOPMENT EFFORTS IN MOST OF AFRICA
Keywords:
Customary Tenure, Custom Paradox, Cadastral System, Africa, Ethiopia
Abstract
Generally, in most African countries, cadastral systems have not developed well. This paper, first, uncovers the critical problem surrounding customary tenure in Africa under the theory the author has introduced ‒ 'custom paradox' theory. In the paper,'custom paradox' theory is considered as a common misunderstanding of customary tenure, and, as such, has contributed to the failure of cadastral systems in most African countries. Second, the paper elaborates on the true characteristics of customary tenure and demonstrates its strong relationship with statutory tenure. In order to best establish the relationship, the author introduces an analytical theory which calls for the 'informalization' of the statutory tenure where the cadastral system legislations are made the reflection of the practices of the African people. A critical desk review of relevant secondary and sometimes legislative documents is mainly used in the paper. In addition, the paper has critically reviewed legal theory in order to cater for the relationship between law and practice and to apply same in the context of the objective of the research. The paper argues that recognition and formalisation of customary tenure is now getting legislative coverage in a few countries of Africa including Ethiopia despite some practical shortcomings.
While showing the mechanisms of favorably making custom work in cadastral systems by way of striking a balance between 'modernization' and 'tradition', the paper would contribute to the strengthening of the already existing scholarly work through establishing the casual relationship between the failure of cadastral systems and the misunderstandings about customary tenure in most African cadastral systems.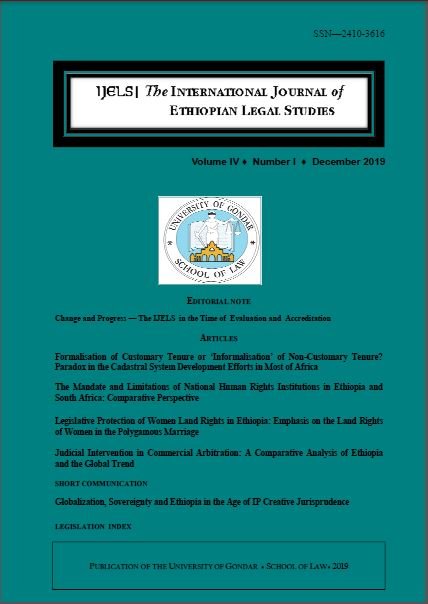 Downloads