THE MANDATE AND LIMITATIONS OF NATIONAL HUMAN RIGHTS INSTITUTIONS IN ETHIOPIA AND SOUTH AFRICA: COMPARATIVE PERSPECTIVE
Keywords:
Paris Principles, NHRIs, Mandate, Human Rights Commissions, Ombudsman
Abstract
International, regional and national human rights documents often entitle human beings certain fundamental rights such as rights to life, liberty, dignity, equality, education and health, in order to help individuals lead a life worthy of living. However, the rights, as enshrined in these various instruments, will amount to mere rhetoric if appropriate enforcement mechanisms have not been designed. In view of this, establishing National Human Rights Institutions (NHRIs) provide states with the necessary equipment in advancing the human rights of their citizens. Although the Paris Principles lays down the standards of NHRIs and the importance of their establishment, it is left to domestic laws to declare the specific functions and powers of these institutions. The Paris Principles stipulate the guidelines or standards of what a fully functioning NHRI needs to have and six main criteria as a minimum condition can be identified: 1) Mandate: a broad mandate need to be given; 2) Independence from Government; 3) Legal autonomy: autonomy guaranteed by statute or constitution; 4) Pluralism, including through membership and/or effective cooperation; 5) Infrastructures: adequate funding; and 6) Operational efficiency: adequate powers. Since choosing on a specific activities and nomenclature is a matter to be determined by the national laws, it is natural to observe a variety of mandates and functions across different states. Even though NHRIs working in South Africa and Ethiopia are established at the constitutional level, there is a greater disparity in the scope of the mandate and powers entrusted to these institutions. This paper compares mandates, adequacy of resources, the nature and levels of independence, and the degree of interrelations with various organs, and the overall activities of NHRIs functioning in Ethiopia and South Africa. It specifically evaluates limitations or successes of these national institutions measured against the six criteria set out in the Paris Principles. Assuming that the South African system and national institutions are far more robust and advanced than the Ethiopian human rights institutions, the article explores to what extent the Ethiopian system could be improved or draw lessons to come closer to the South African system.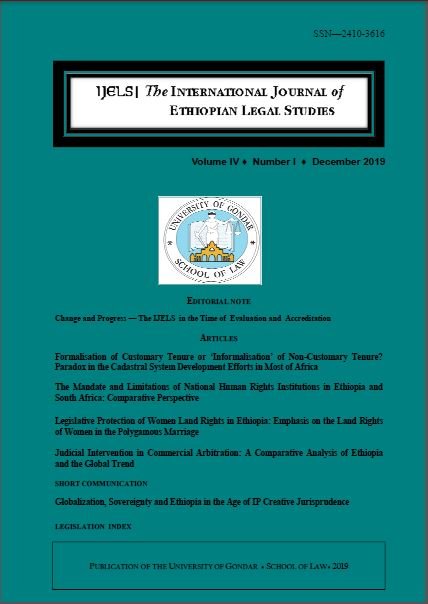 Downloads