THE NEED FOR LEGISLATIVE PROTECTION OF WOMEN LAND RIGHTS IN ETHIOPIA: EMPHASIS ON THE LAND RIGHTS OF WOMEN IN THE POLYGAMOUS MARRIAGE
Keywords:
Women, Land Rights, Land Registration, Land Certification, Polygamy
Abstract
This article looks into the need for legislative protection of women land rights in Ethiopia with a focus on the land rights of women in the polygamous marriage. Mostly, the author has utilized doctrinal legal research approach so as to respond the intended objectives the article and to this end, international and regional (African) human rights instruments are deeply consulted concerning the issue at hand. The article has also examined the domestic (Ethiopian) legislations including the Federal Supreme Court Cassation Division decisions in order to respond to the issue raised by the article. Doing so, the article has found out that, even though the international human rights instruments have clearly incorporated non-discrimination clause on the enjoyment of rights contained therein, all of them have not clearly built-in protection for the land rights of women in the polygamous marriages. Regionally, it is only the African Women's Rights Protocol, which has recognized polygamous marriage relations provided that if such union is due to the influence of culture or religion and obliges state parties in order to enact laws to ensure and promote such relations. Since, the Protocol has given place for the protection of polygamous marriage, and then one can reckon that, the Protocol has impliedly recognized land rights of women in the polygamous marriage. In the domestic laws arena, the FDRE Constitution prescribes women to have equal rights with men with respect to use, transfer, administer and control of land. But the Constitution has not clearly recognized polygamous marriage in general and land rights of women in the polygamous marriage in particular. Nevertheless, if we consult Article 34(4) of the Constitution, it impliedly accepts the possibility of recognizing polygamous marriage practices provided that such practice is maintained within the religious and customary laws of the intending spouses' community. Since, the Constitution has impliedly recognized polygamous marriage relations, then one can correspondingly say that, it has not totally denied the land rights of women in the polygamous marriage by leaving place for other detailed legislations in order to fill the gap.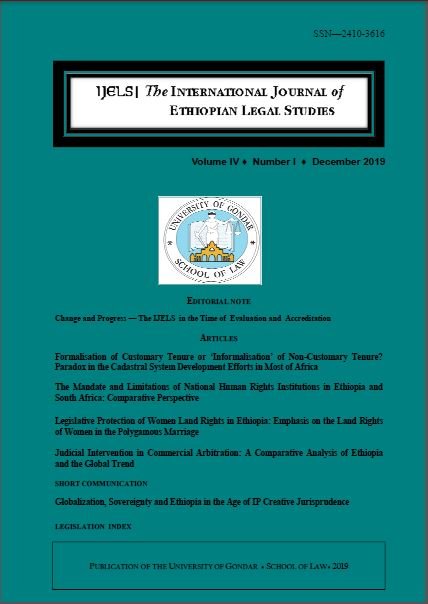 Downloads