GLOBALIZATION, SOVEREIGNTY AND ETHIOPIA IN THE AGE OF IP CREATIVE JURISPRUDENCE
Keywords:
Globalization, Sovereignty, Intellectual Property, Geographical Indications, International Law
Abstract
Intellectual property (IP), trade, national language (lingua franca), sports and other socio-cultural interventions could be an agency for economic and national unity.  This short communication analyses the intersection of contemporary IP international regimes and socio-economic development of a developing economy, using Ethiopia as a case study. The research further analyses the intersection of IP systems of laws and other socio-economic concepts like globalization, human rights, and legal education. Human rights and intellectual property have become a current subject of legal scholarship as evidenced in the recent Marrakesh Treaty signed by more than eighty countries. Recently, Ethiopia entered a multilateral agreement to participate in an e-commerce platform. The implication for Ethiopians could range from exposures to digital creative jurisprudence to full participation in the creative culture of the networked digital era. However, Ethiopia currently does not belong to any major Internet Treaty or intellectual property (IP) Treaty, and this paper seeks to explore the implications for its economic and developmental innovation and creativity policies. Multilateral economic and investment Treaties in this millennium represent manifestations of the impacts of globalization. Sovereign and political rights proponents have raised concerns about the derogation of political and economic capacities of nation-states because of globalization. The protagonists of national sovereignty and constitutional order demand the renegotiation of most of the international socio-economic Treaties. This paper will suggest ways of allaying the suspicions of sovereign dilution, which may be part of raison d'etre for the skepticism towards international economic and developmental Treaty regimes. As a starting point Ethiopia should use the template of its human-rights Treaty recognition to sign or accede to international IP Treaties.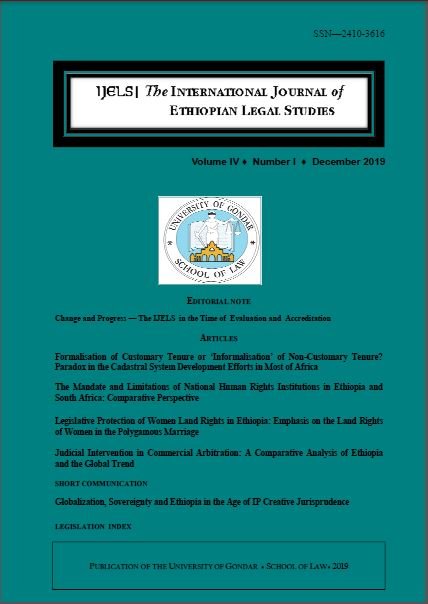 Downloads