Distribution of Dengue Virus Serotype Based on Neutralization Assay in Northwest Ethiopia
Keywords:
Dengue virus, NS1 antigen, neutralizing antibodies, Northwest Ethiopia
Abstract
Background: Dengue virus (DENV) is arthropod-borne virus transmitted by the bite of Aedes mosquitoes. Neighboring countries are highly endemic for DENV, but specific data on the occurrence of DENV in Ethiopia are not available. Therefore, this study aimed to provide information on the presence of different DENV serotypes in the study areas.
Method: The study was conducted from January 2016 to March 2017 in northwest Ethiopia. Blood samples were collected from febrile patients and screened for IgM and IgG antibodies against DENV by ELISA. Further, IgM positive samples were screened for dengue NS1 antigen and RT-PCR targeting the NS5 gene of DENV while IgG positive samples were analyzed using neutralization test (ND50) to measure titers of dengue serotype-specific antibodies.
Result: Out of 114 anti-dengue IgM positive samples, dengue NS1 antigen was positive in 17 (14.9%) while none of the samples were positive for RT-PCR. Neutralization test results were obtained from randomly selected 60 dengue IgG positive samples, and of which 49 (81.7%) had neutralized one or more DENV serotypes. Out of 49 neutralization test positive samples, 27 (55.1%) had neutralizing antibodies to DENV-1, 38 (77.6%) to DENV-2 and 18 (36.7%) to DENV-3. DENV-4 neutralizing antibodies were not detected. The most frequent monotypic neutralizing antibodies were against DENV-2.
Conclusion: Dengue virus neutralizing antibodies present in most of the cases investigated. This indicates the presence of dengue infections as neglected cases of fever and thus highlight the importance of dengue surveillance, prevention, and control in the country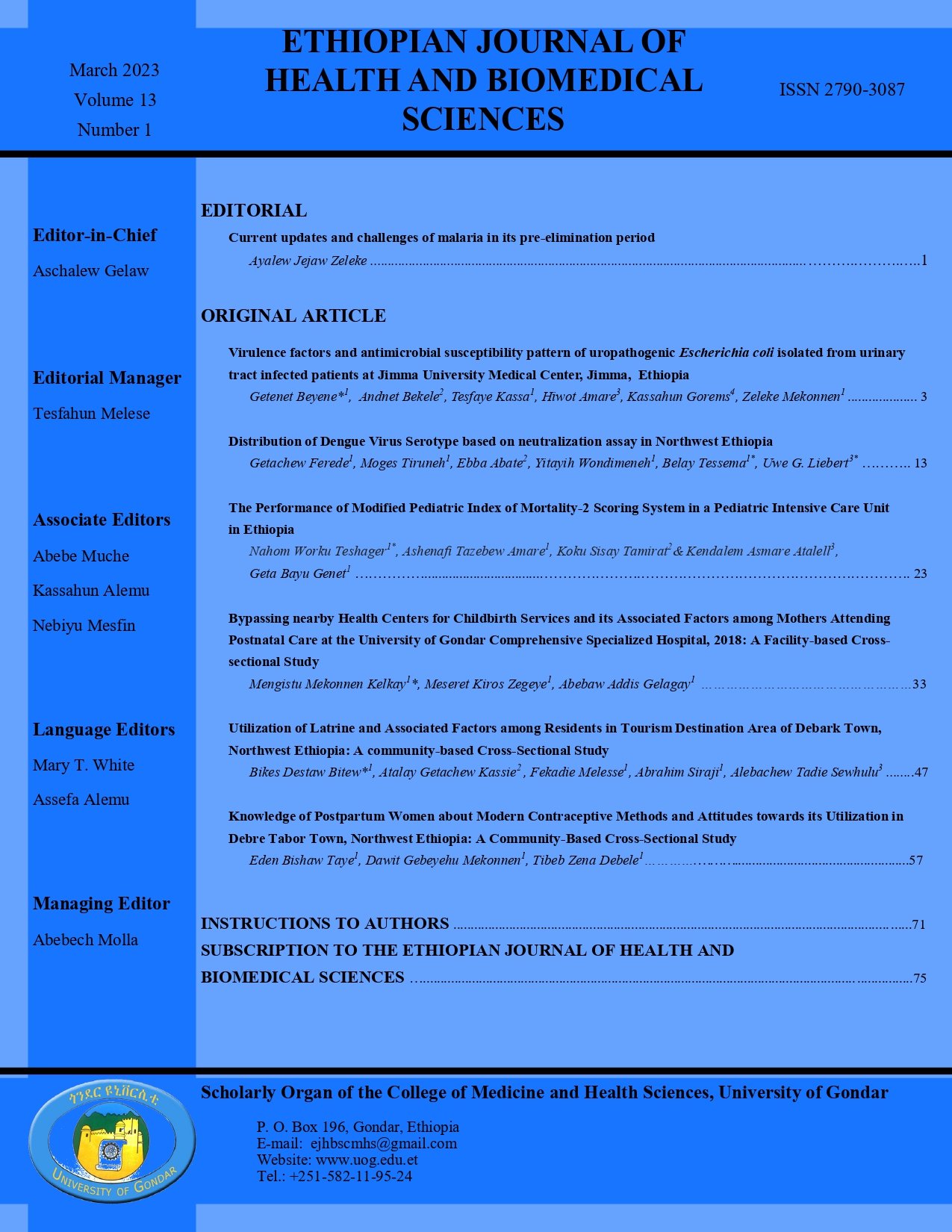 Downloads
How to Cite
1.
Ferede G, Tiruneh M, Abate E, Wondimeneh Y, Tessema B, Liebert UG. Distribution of Dengue Virus Serotype Based on Neutralization Assay in Northwest Ethiopia . Ethiop J Health Biomed Sci [Internet]. 2023 Mar. 30 [cited 2023 Dec. 10];13(1):13-21. Available from: https://journal.uog.edu.et/index.php/EJHBS/article/view/455
License
Copyright (c) 2023 Getachew Ferede, Moges Tiruneh, Ebba Abate, Yitayih Wondimeneh, Belay Tessema, Uwe G. Liebert
This work is licensed under a Creative Commons Attribution-NonCommercial 4.0 International License.